! TRACES OF WEAR AND TEAR – NOT WITH US !
Professional repair of brake calipers
Processing

vs. 

Repair
Reconditioning brake calipers – Automated or manual detailed work
Brake manufacturers and certified remanufacturers take back used brake calipers from automotive workshops and dealers. Subject the calipers to professional reconditioning and bring them back onto the market as high-quality replacement parts. In the large systems, the brake calipers run through standardized industrial processes according to precisely specified cycle times. For common brake calipers, which are also known as "brake calipers", this is absolutely reasonable and inexpensive.
But classic car enthusiasts and owners of special vehicles often express the desire to reuse their own calipers. Understandable, because our processing team also wants to stay as close as possible to the original and preserve it. As far as it is possible to restore the original condition, we will do everything possible. Our knowledge covers the entire spectrum of braking technology. In addition to brake calipers, this also includes the reconditioning and regeneration of friction technology and brake hydraulic components. Our team is professionally well positioned to deal with any type of specialty. Because once 3 decades have passed since the date of manufacture of the brake parts, the real odyssey begins for owners of old commercial vehicles, old tractors or other automobiles – equipping their valuable vehicles with well-preserved brake calipers and the appropriate overhaul kits. Various designs and designs that have developed over time often require very special, professional repairs tailored to the circumstances.
Reproduction
Last rescue – made to measure from scratch
If all repair approaches come to nothing – such as excessive wear on the metal surface in cylinder bores or significant fractures and cracks in housings or pistons – then there is the possibility of reproducing your good piece according to original dimensions. First of all, cast blanks or rod material for pistons are machined using modern CNC processes. The workpieces go through precisely executed machining processes such as milling, drilling or reaming. The surfaces are then treated afterwards. Cast parts are protected against corrosion in electrolytic baths, by galvanizing and passivating, by dip painting (KTL) and powder coating, or by applying layers of paint with subsequent drying in special ovens. In the hard anodizing process (hard anodizing, hard anodizing) aluminum parts receive corrosion and abrasion resistant coatings. State-of-the-art processes are used. For the faithful reconstruction of the caliper housing, whether for a fixed caliper, floating frame caliper or floating caliper, CAD models are created and the materials are precisely determined. The new production is subject to the same quality and safety standards as the certified production of high-quality new parts. Pistons and even small parts such as springs and screws can be custom-made by our partners. This means that every rare one-off and discontinued model can continue to be used.
Maintenance
Keep an eye on the condition of the brakes
By exchanging the brake fluid annually and through timely maintenance, defects can be identified and remedied at an early stage. In this way, damage can be eliminated in the early stages, before it becomes more difficult for the brake calliper.
Apart from regular brake fluid changes, it is often the small, unnoticed mistakes when installing new brake pads that damage the brake caliper. During assembly, the sensitive sleeves on pistons or guide pins are usually caught, so that moisture can easily penetrate and lead to unnecessary rust formation. Material fatigue and wear and tear do the rest. The old age of classics and long downtimes are a real challenge. Help ensure that your brakes do not become extreme cases and that they can still be repaired after years and decades.
Submit
Sent in the calipers
Simply send us your old brake caliper. From this point on, we recondition your caliper very fast and send it back to you.
Documentation
Assessment down to the smallest detail
When the caliper  arrives, it is checked several times for defects and damage. To do this, it is disassembled into all its individual parts and cleaned. In this way, cavities and hard-to-reach areas can be better controlled and the current state can be assessed more precisely.
This can be a difficult undertaking. So the pistons may be seized and not move a millimeter from the spot. We try to set the pistons in motion with special tools and / or high-pressure hydraulic presses. When opening the fixed caliper, tight screws can make it difficult to separate the two halves of the caliper. In addition, torn off ventilators often have to be removed with great effort, if possible without damaging the thread and the valve bore in the housing. All of this is very complicated and time-consuming, and requires the routine work of our technical team. From time to time our team also holds combination calipers  with an integrated parking brake (piston mechanism) in their hands. With an experienced eye, you can see immediately which pressed-in covers or which Seger rings can be opened.
Some internal mechanics or adjustment units shouldn't be removed. In such cases, dismantling is carried out individually and in consultation with the customer. Everything that can be removed from the case is removed. The components are carefully examined, recorded and checked for reusability. In the case of components that are no longer reusable, the availability of new parts is queried. Wear and rubber parts are generally replaced. We keep many items in stock. If parts are not available, we will obtain corresponding offers from our partners.
The documentation comprises the following three core areas:
Inventory of the caliper housing
The cast housing made of cast iron, cast steel or aluminum – mostly the material gray cast iron (GG) – is examined in detail for crack formation, material breaks, the effects of corrosion, material wear and possible damage to cavities.
The brake caliper housing is seriously damaged if broken valves or e.g. the expansion screws get stuck in the fixed caliper, the contact surfaces of the caliper halves can no longer be "smoothed" and the area of ​​the screw connection is too corroded. Or, however, if the cylinder bore has been worn away so severely by extreme rust or excessive honing that the tolerances for the space between the piston and cylinder bore are exceeded. If there is no longer any prospect of refurbishing the caliper housing, it may make sense to manufacture the caliper housing again after detailed material determination and measurement.
Inventory pistons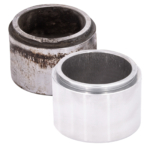 On the piston, attention must be paid to broken edges, broken groove flanks, sharp-edged areas, as well as cracks, grooves, dents and flaking chrome coatings. Excessive scoring on the piston (but also on the cylinder bore in the housing), deeply recessed areas of rust and scratches, or extensive pitting and surface corrosion, already hinder the piston movement in the cylinder interior and lead to tension and displacement of the piston and the sealing ring. Back then it was not uncommon to use honing to repair the running surfaces of the cylinder bore in the event of severe rust and to adapt the pistons accordingly. With today's tight tolerances, such interventions on the brake caliper are no longer carried out. The manufacture of brake pistons has changed over time. Initially, cast pistons were manufactured using a gray cast iron process and machining. Then they started to manufacture steel pistons in non-cutting forming processes. Various processes are used such as: deep drawing, extrusion, compression molding, folding the contact surface, rolling groove and shoulder and much more. Deep-drawn steel pistons are lighter and have thinner walls than cast pistons. Weight savings could also be achieved with aluminum pistons. These expand more under heat and transmit heat from brake linings more strongly than conventional steel pistons. Such piston designs devised by the manufacturer should not be changed and therefore the pistons must be exchanged exactly according to vehicle-specific specifications. This is even more necessary with pistons made of plastic. In order to improve the low thermal conductivity of the thermoset material and to avoid thermal overloading of the brake pads and the piston, metal inserts or metal accessories are integrated. In addition, plastic pistons (phenol pistons) are very susceptible to cracking in the event of extreme overheating. Heat damage that cannot be seen with the naked eye forms in the material. A purely visual inspection cannot detect this internal damage caused by heat, age-related material degradation or side impacts. That is why we generally change plastic pistons. If an old cast piston can no longer be saved by grinding, coating and polishing and is no longer available as a replacement part, a customer-specific new production on CNC milling and lathes can help. This is done in consultation with the customer.
Inventory of individual parts
Seals can shrink, shrink, become completely porous and crack. It doesn't matter, all rubber parts and sealing elements, whether dust sleeves, protective caps, piston sealing rings or internal seals – we replace them with new material in OEM quality. In the case of rare specimens, the search for the appropriate part can turn out to be tedious. E.g. the elastomer material (EPDM, NBR, SBR / NR) is determined and the profile measured precisely. We have experienced partners at our side and also enable custom-made products based on CAD drawings and samples. When dismantling the calipers, a large number of mechanical and hydraulic components come to light and are completely documented by our reconditioning team.
Every brake caliper requires its own very special small parts, whether it is bleeder valves, springs, clips, pins, screws, protective rings, protective sleeves, O-rings, VKT sealing rings, copper sealing rings, screw sockets or guide bolts, bushings and much more. And in some cases, finding new parts can be very complicated and time consuming. Obtaining the right parts can be a tricky undertaking and is accordingly listed as an additional service in the invoice.
Our cost estimate
After we have made a comprehensive picture of the brake caliper that has been sent in and can estimate which work steps are required for the repair, we create a cost estimate based on the effort. When overhauling the caliper and when finding rare spare parts, our team may come across unplanned surprises. Then we will decide how to proceed in consultation with the customer. The average processing time is around 5 working days.
Your customer approval
The repair or reconditioning of your brake caliper only begins with your approval of the cost estimate. Confirmation is essential.
Complete cleaning
The rust is on the collar
To remove old paint and varnish layers, dirt and rust deposits, we use sandblasting technology on cast housings. Sensitive areas such as the threaded holes are covered during sandblasting. The cleaning jet gently penetrates to the bare metal surface.
Depending on the condition, caliper housings can also be cleaned on a weaker sandblasting system with less pressure and slightly finer abrasive. We usually blast soft aluminum housings manually with very fine-grain sand. The housing is then cleaned of any still adhering blasting granulate. This is the easy part of derusting and degreasing.
Cleaning baths and solvents are also used to loosen the last stubborn residues of dirt and to reach areas that are difficult to access, such as ventilation holes, threads or channels inside. Depending on the condition, you should be patient. Repeated soaking and rinsing, solvent-related exposure times and the use of manual cleaning aids can then also reach the last corners in the housing.
This is followed by another inspection of the caliper housing for cracks and defects. Because of their filigree structures and their often sensitive surfaces, pistons and small parts are sold separately, e.g. cleaned by immersion basket in ultrasonic baths. In this way, indentations and undercuts can be freed from dirt and degreased. Well-preserved expansion screws, pad retaining pins or expanding / cross springs can then be reused.
After complete cleaning, before & after in comparison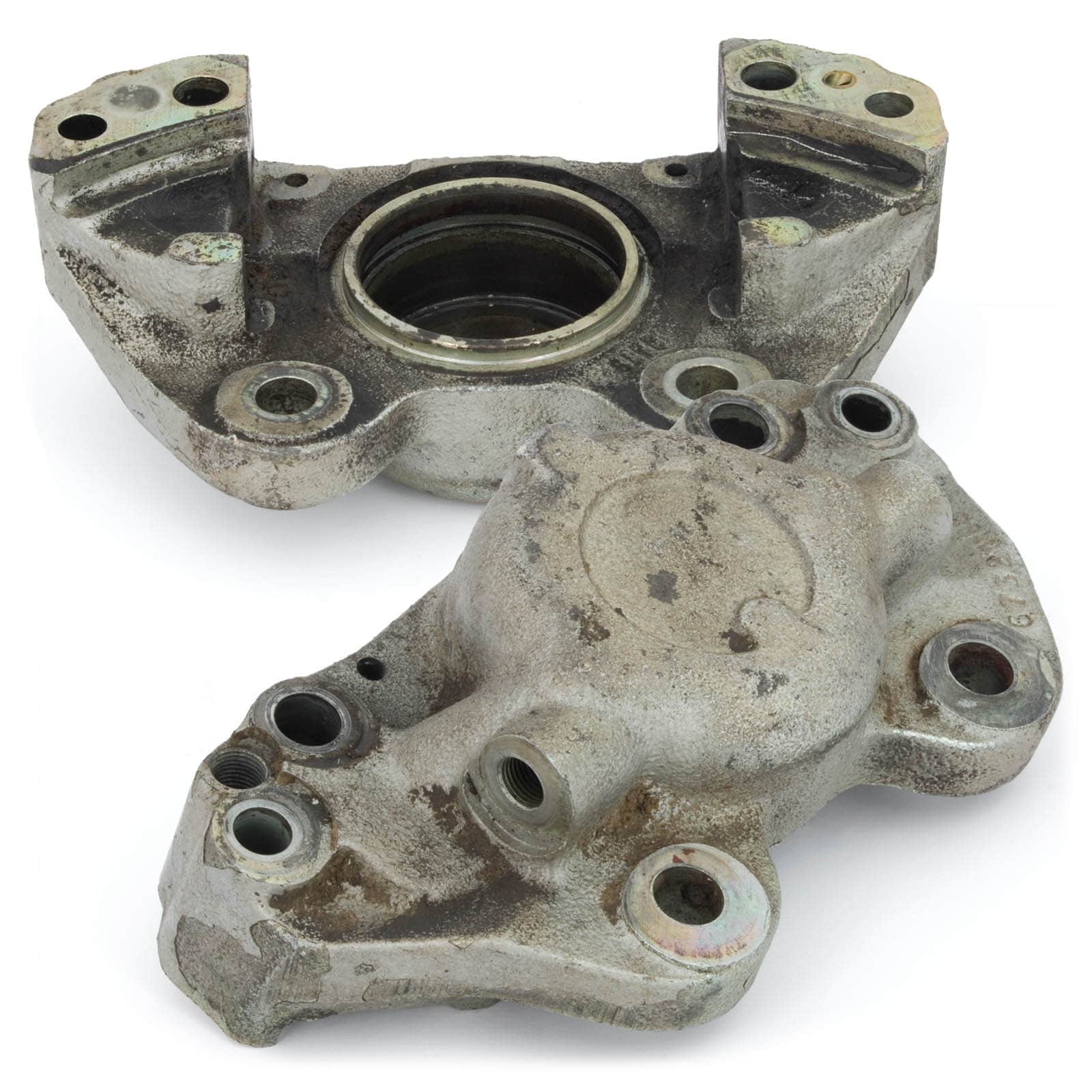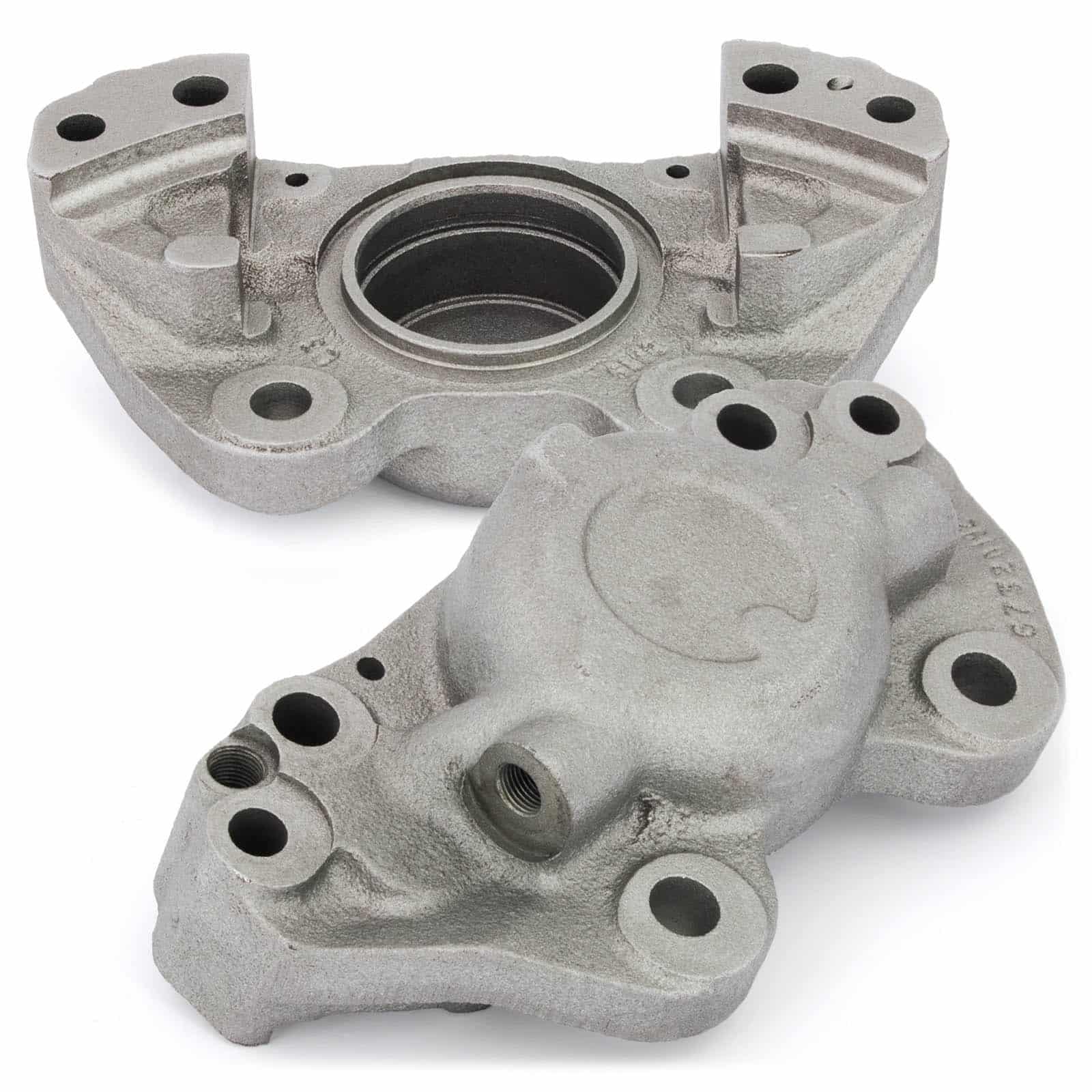 Renewed conservation
Saddle housings get a new paint job
Immediately after the blasting work, the cleaned cast housings are recoated in an electrostatic powder system. First, an epoxy resin-based primer is applied to the oil- and grease-free gray cast iron surfaces. A further top powder coating is then applied to this first corrosion-protecting primer powder layer. During the powder spray process, threads, running surfaces and holes are cut out. It is baked in the dryer after specified holding times and oven temperatures at 180 ° C. When the powder coating system cures or cross-links, a new, high-quality, resistant coating is formed. The housings cool down to room temperature depending on their size and material.
The coating on the basis of polyester and epoxy resin offers long-term protection against corrosion and weather influences (moisture, road salt, etc.). It is resistant to chemicals and solvents. Aggressive brake fluids, rim cleaners or strong cleaning and cleaning agents from the car wash can only do little to you.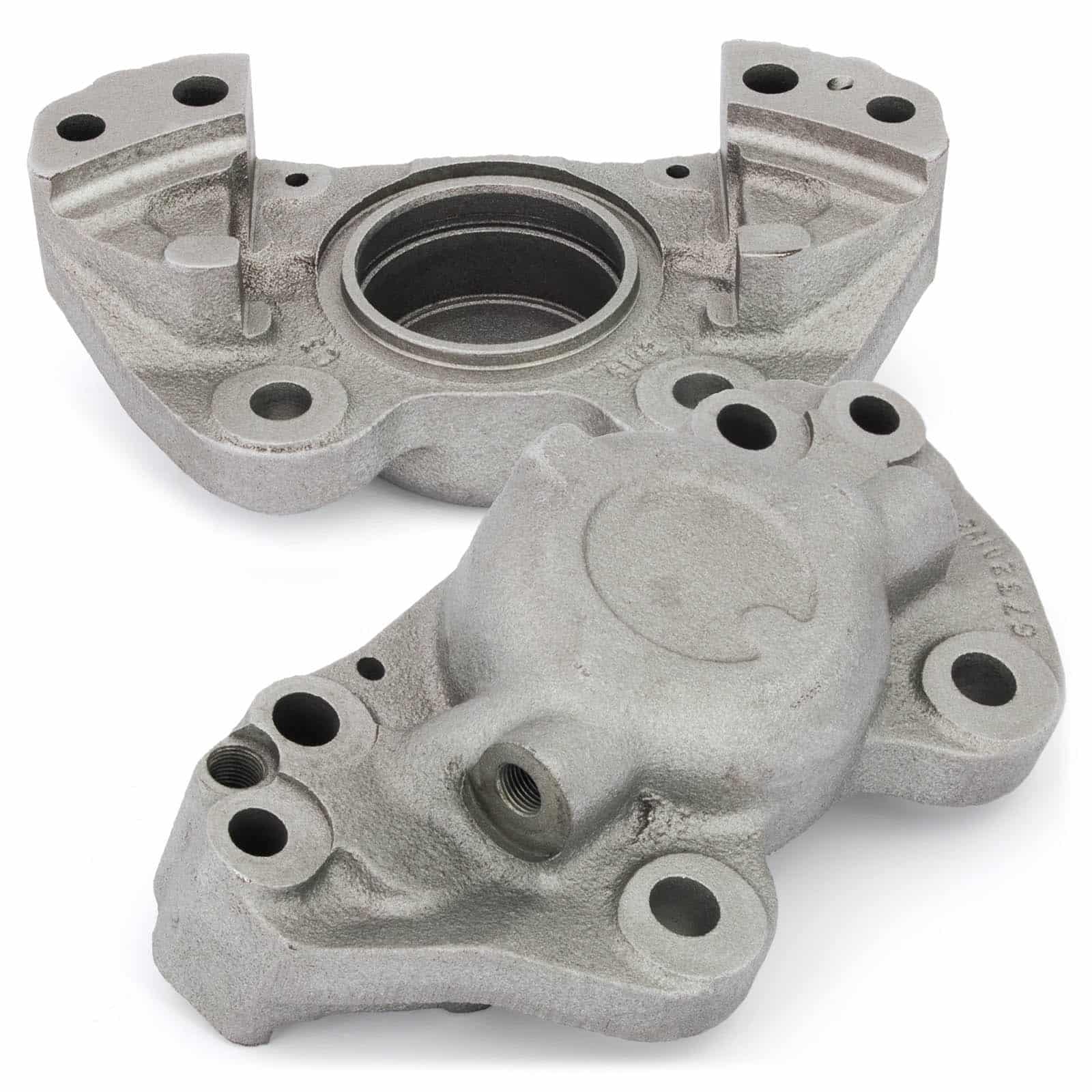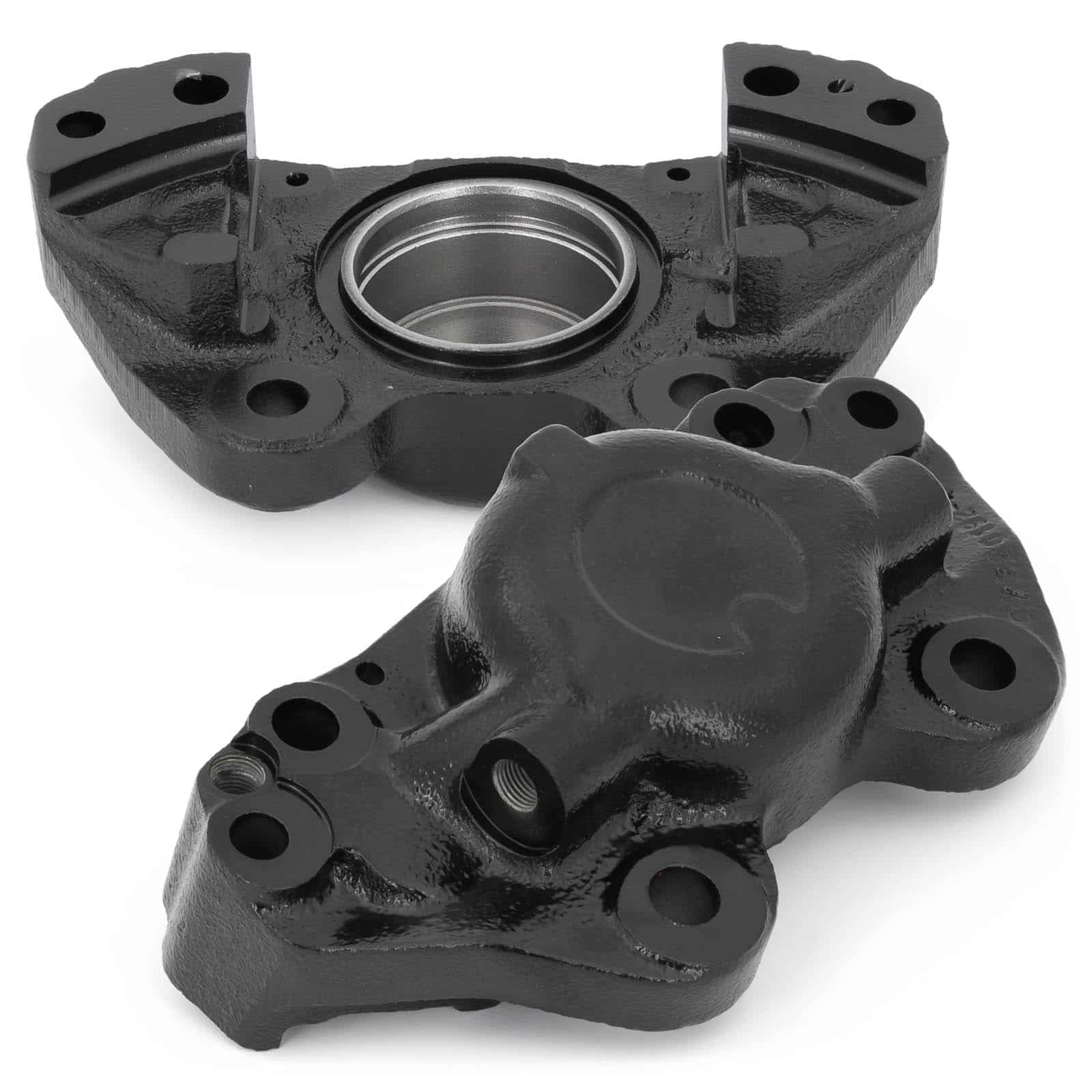 The powder coatings are available in 3 standard colors as well as a freely definable RAL color:
Surface microstructure
If necessary, sensitive areas are treated afterwards
The painted gray cast iron housings are then carefully "smoothed" on the running surfaces. With special tools, sharp bumps and peaks that have arisen from rust can be flattened – without changing the dimensions of the tolerances in the bore space between the piston and cylinder bore. For this purpose, precisely controllable machines are used, which prevent damage to the sensitive housing ring groove. The seat of the square sealing rings, also known as the sealing ring or dust cap groove, is decisive for the rollback function of the sealing ring and is also carefully cleaned in the course of machining the running surface. Groove edges on the piston are handled with similar care.
This is followed by rinsing and washing processes until the housing or piston is finally ready for assembly.
Final assembly
Housing, pistons, individual parts – everything as new
The revision work in the workshop has been completed, the parts that have been procured in the meantime are available. The assembly of the brake calipers can begin. For this purpose, the stressed running surfaces of the cylinder bore (piston bore) and the piston are thinly coated with assembly fluid. The sealing ring and sealing ring groove are rubbed evenly with the brake cylinder paste before the square sealing ring is inserted into the groove. With the dust protection sleeve turned on, the pistons are guided into the cylinder bore, aligned and appropriately fixed and secured until everything is in place.
With the fixed calipers, the screw connections on the two halves of the caliper (flange and cover part) are brought into shape. The appropriate new seals are installed and, if the previous screws are reused, they are lubricated with a little Loctite. The brake caliper halves are then brought together on the clean contact surfaces and tightened with the specified tightening torque.
The final assembly steps follow. Add-on elements such as ventilators, screw connections or brake lines are still attached to the saddle. Done – the brake calipers have now been completely renewed and their function has been restored.
Final acceptance
Reconditioned and Repaired calipers are checked
We want to make sure that the reconditioned brake calipers run flawlessly in terms of quality and safety. Every single saddle is therefore checked for mobility, proper function and sealing effect of the sealing elements. During the hydraulic leak test, the saddle is subjected to a test pressure of approx. 3.5 bar. During the test, the pressure curve is recorded in order to measure a possible decrease in the course of the specified time. E.g. The leakage limit value of 300 Pa is not exceeded in the low pressure measuring range. When checking for leaks on the low-pressure testing machine, the piston movement is automatically tested for ease of movement. After successfully completing all tests, the saddle is now well equipped and ready to be shipped (via DHL) back to the owner.